Little Mountain Redevelopment Stalled Again
Little Mountain Redevelopment Stalled Again
Developer's refusal to provide amenities symptomatic of a failed housing strategy.
By Ned Jacobs
Since 2009, when all but four of the 224 homes at Little Mountain Housing were demolished, the 15-acre site, which housed a well-functioning community in 2007, has sat fenced off and empty except for a scattering of trees. A single rowhouse building remains because several of the tenants courageously refused to be displaced by BC Housing (BCH).
Rather than forcibly remove the tenants, which would have made the provincial government's ongoing public relations disaster even worse, they were allowed to remain, as chronicled by documentary maker David Vaisbord.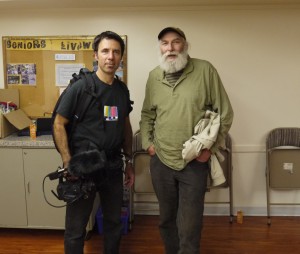 Vaisbord & Jacobs at Advisory Group Meeting 2012
Eventually, BCH initiated eviction proceedings, but the holdout tenants appealed, arguing that there was no rationale for them to leave as there was still no plan in place to redevelop the site and no urgency to demolish the remaining building, which they hope will be preserved as a neighbourhood museum and gallery.
Although a lengthy, oft-delayed planning process had finally produced the Little Mountain Policy Statement (LMPS) to guide rezoning and detailed planning, Holborn Group, the subsidiary of a family-owned Malaysian merchant bank, which had purchased the publicly owned land for an undisclosed amount (rumoured to be as much as $300 million), had not yet applied for a rezoning. Rather than risk having the evictions overturned and more attention brought to the disturbing truth that about 600 persons had been needlessly displaced and hundreds of affordable homes prematurely demolished for a project that will have to be built in at least three phases, BC Housing once again relented. This time, not only could the holdout tenants remain, but a new building would be erected to relocate them and allow some of their former neighbours to finally return.
David Vaisbord was undoubtedly a major factor in achieving this small but highly significant victory. His dogged determination to document virtually every aspect of the Little Mountain saga—and especially the unfolding human and social tragedy—has repeatedly reminded BC and City officials that his camera, in combination with conscientious members of the Riley Park community, will continue to hold them accountable.
This lone "seniors" building is now nearing completion and could be occupied in late summer or fall of 2014. That good news is long overdue, but no comfort to the majority of displaced families, who back in 2007 were assured by BC Housing officials that they could return to new homes in 2010. That promise was disingenuous because the timetable was never realistic. But these administrators and their political masters couldn't have imagined that seven years later, one of the most desirable development sites in one of the world's hottest real estate markets would remain unrezoned and undeveloped as a consequence of their own poor judgment.
Numerous delays have continually plagued the initiative, which back in 2007 was touted by former BC Premier Gordon Campbell and former Vancouver Mayor Sam Sullivan as the new model for replacing aging social housing stock and funding supportive housing. But not only has the Little Mountain debacle demonstrated that their strategy is fundamentally unsound, development consultants have told me that in their view just about every conceivable mistake that could be made was made.
Sadly, that doesn't appear to have changed. And more of the sick chickens hatched by Housing Minister Rich Coleman are now coming home to roost.
This spring, City planners informed the Riley Park Community Vision Implementation Committee (a volunteer advisory and "watchdog" group established under Vancouver's CityPlan Program) that Holborn's architects had finally submitted a rezoning application. The planners said that in terms of built form their proposal is consistent with the LMPS, which means (at least in theory) the rezoning process could be completed in time for phase 1 construction to start in the spring of 2015.
But there is a catch—a big one. Holborn told the City they are unable to provide a community amenity package consisting of a long-awaited replacement for the Little Mountain Neighbourhood House, a 69-space day care centre, traffic calming infrastructure (to help mitigate thousands of additional motor vehicles) and park improvements: $21-24.5 million in all, required as a condition of rezoning under the City policy.
About half of the amenities would be funded by a Development Cost Levy (DCL), which is based on a fixed per square metre rate; the remainder through a Community Amenity Contribution (CAC).
The City calculates land value for purposes of negotiating a CAC on the basis of current market value under existing zoning, not on what a developer might have paid, which would encourage speculation and reduce land lift (increased value due to more intensive use). According to the City and their real estate consultant, the current land value is significantly less than the figure submitted by Holborn. The developer should have been able to cover the costs of the required amenities and still make a profit, but Holborn seriously overpaid.
The reason for this—and why it is such a problem—is a consequence of the housing strategy adopted by the Province of BC.
When the Little Mountain redevelopment initiative was announced in early 2007, I became concerned because the approach BCH was taking was needlessly destructive. I knew that the City of Toronto was in the process of converting a large, sprawling social housing project into a high density mixed-income development, and in contrast to what BCH was doing they were keeping the existing community largely intact during phased construction. That's not unusual; it is considered a "best practice" throughout the world.
I made a phone call to Catherine Goulet, who was directing the Regent Park Neighbourhood Initiative, the social planning arm of that redevelopment, and was pleased to hear her say that part of her mandate was to share lessons learned with others contemplating similar initiatives. Goulet explained that Toronto had made a serious mistake by engaging a developer before planning the redevelopment. Consequently, after initial planning occurred the developer decided it was not consistent with his expectations. This caused delay as a new Request for Proposals (RFP) was needed to select a suitable developer and ensure that the project would be economically viable.
Goulet stressed the importance of having a community-supported social development plan as well as fundamental physical planning in place as a prerequisite for a public-private development partnership. Each time they had tried to shortcut the process to save time or money it had cost them more of both. Goulet said that they had learned from their mistakes and she was confident they were now on the right track. Work had started on the first phase with a minimum of social upheaval. Residents that had to be moved out of Regent Park were being relocated within the same general area of Toronto—in contrast to BCH, which was scattering the Little Mountain tenants far and wide.
We also discussed the Little Mountain initiative, and while Goulet was diplomatic, it was clear from her response that she agreed that it appeared to be headed for big trouble.
That spring and summer I was part of a small delegation of Little Mountain tenants and concerned neighbours that met twice with the local MLA, Carole Taylor, who also happened to be Finance Minister, and several BCH officials, including CEO Shane Ramsay. The tenants, led by Ingrid Steenhuisen, who grew up and has lived most of her life at Little Mountain,
brought forward a long list of complaints detailing the coercive and manipulative practices that BHC staff were using to rush tenants into accepting relocation, sometimes into situations that were not appropriate to their needs or circumstances. I was dismayed that the BCH officials dismissed these truthful reports as unfounded. On the only occasion that Mayor Sullivan visited Little Mountain to meet the tenants, he too responded to their complaints with skepticism, saying he needed "documentation", which of course was impossible since the meetings with tenants were never recorded.
We told Taylor and the BCH officials that we thought BCH was going about this thing backwards. There was no pressing need to vacate or demolish the complex. Such a large endeavor would require a planning process to produce a development framework (the LMPS). If the community remained intact the tenants could actively participate, sharing their local knowledge to help ensure a successful outcome. Since for economic reasons construction would have to be phased, off-site relocation would hardly be necessary. Residents of the section selected for the initial phase, which will also include much of the replacement social housing, could move to other parts of the complex as units became available through normal attrition. Instead, despite long wait lists, BCH had been leaving vacated units throughout the city and region unoccupied to accommodate Little Mountain tenants—a very wasteful practice.
The officials responded with phony excuses. The ground was contaminated (untrue); the entire site would have to be leveled and excavated for underground parking before any building could occur (untrue); it would be hazardous for anyone to remain living on the site during demolition or construction. That, of course, was preposterous. Most of the existing rowhouses and apartments were set well apart, and homeowners across the lane would be no less vulnerable to these imaginary hazards than the Little Mountain tenants.
We realized then that they took us for fools and were committed to a hidden agenda—one that they knew would not stand scrutiny. I suspected that they figured they could get a higher price for the land if they offered developers an empty site, and this single objective was driving their strategy.
I told them about my conversation with Catherine Goulet and urged them to contact her because she would be happy to share the lessons learned at Regent Park. They were not interested. One of the officials said that he new all about Regent Park and the two projects had little in common.
Although Little Mountain is smaller than Regent Park; the difference is roughly comparable to the differences between the two cities and their social housing resources. The biggest difference is that while Regent Park was widely viewed as a crime-plagued failure due to its excessive size, poor design, and other factors, Little Mountain had been a success. In the 1960s and 70s, Little Mountain residents defeated the "Riley Park (youth) Gang", which had been terrorizing the neighbourhood, and over several decades they took the lead in securing amenities for the entire neighbourhood, including our first community centre, library, neighbourhood house, and transit improvements. Ironically, these contributed to making Little Mountain a condo-developer's dream and potential "cash cow" for government; or as some have sardonically put it: "too valuable for the poor". Regent Park was owned by the City of Toronto, not the Province of Ontario, which probably simplified things, but the fact that one government owned and managed the Little Mountain property and another regulated land use underscored the importance of coordinating these roles and getting the strategic planning right from the start.
At one point, Taylor clenched her jaw and declared that the government planned to "pursue this housing strategy very aggressively!" The strategy entailed selling off many of BC's social housing sites for private development and investing the proceeds in supportive housing, for residents in need of additional supports due to disabilities, especially mental illness and addiction to alcohol or drugs. This "population" had boomed, especially in Vancouver's Downtown Eastside (DTES) over the course of decades of fiscal neglect by federal and provincial governments. With the 2010 Olympics looming, street homelessness had become a major cause of concern and embarrassment for both the City and Province.
The Liberal government's priority was to cut taxes. To do so, they allowed the social safety net and minimum wage to languish. They were determined to make BC the cheapest place to do business in Canada. In that they may have succeeded, but an epidemic of homelessness has been one of the costs.
The City of Vancouver owns a number of properties that they deem suitable for supportive housing, but lacks the resources to develop them. Premier Campbell, Housing Minister Rich Coleman, and Taylor were counting on the sale of Little Mountain to fund construction of thousands of supportive housing units on 14 city-owned sites (mostly in the Mount Pleasant area situated between the DTES and Riley Park). To manage this, they would only replace—not increase—the social housing at Little Mountain, which was in line with their philosophy that providing housing affordable to low-income families and seniors is a function of the private housing market (while BC does provide supplements for some low-income renters, the program is designed in such a way that very few of those who are in need qualify). Instead of funding supportive housing with tax revenue, market forces that were making Vancouver unaffordable for many city residents would foot the bill.
But they failed to consider social sustainability. As Vancouver becomes less and less affordable (and densification is arguably not mitigating but contributing to the problem by stimulating inflationary global investment in Vancouver real estate), more public land and money for social housing will be required, not less. I have likened this shortsighted strategy, which requires exchanging land—a permanent, appreciating asset—for buildings—a temporary, depreciating asset, as "selling the house to buy furniture." This is especially problematic since little is being done to prevent and treat the disabilities that make supportive housing essential. And world-wide experience shows that the approach being taken by our City and Province—concentrating this population in highrises of more than 100 units—rarely (if ever) works out well for the project residents or the surrounding community.
Supportive housing is a core element of our social safety net. Former NDP MLA David Chudnovsky has pointed out that we don't sell off our parks to cover social assistance and disability cheques; why then would we sell our social housing sites to fund supportive housing? It would make much more sense to fund supportive housing through general revenue, and redevelop Little Mountain and other appropriate social housing sites as rentals and cooperatives to house a broad range of incomes—and especially for "first responders" and other essential service workers that have been frozen out of the Vancouver market.
To make their flawed housing strategy financially viable the government had to get top dollar for the land. Colliers International, which was engaged to handle the sale, reportedly advised BCH to offer a cleared, construction-ready site—a "blank slate". For this, they were willing to dismantle a thriving community, demolish hundreds of social housing units for an undetermined interval, and forego the millions of dollars in rents that those units provided. It was "aggressive", all right—ruinously so, as things turned out.
At one of these meetings I asked Ramsay how developers could have a reliable basis for presenting offers if they didn't yet know what the permitted or required uses, densities and building forms would be. That could only be determined through a planning process, which, in order to be efficacious would have to consider and reconcile many factors specific to the site and its setting. Ramsay explained that they would take a tiered approach—request offers for a range of possible densities.
But it seems that this procedure was not followed. According to Michael Geller, an experienced architect/development consultant who represented a major developer in the RFP, he was repeatedly urged to offer more money on the basis of greater density. In other words, the developers were forced to place bets on how much density the City might approve.
My assumption is that the initial offers from more than twenty developers fell far short of the amount that Coleman was counting on. Geller, who was one of the last to be dropped from the RFP, has been quite forthcoming about the density and building heights that he thought were suitable and obtainable. Interestingly, his assumptions were closer to the height and density that the Community Advisory Group (CAG) reluctantly recommended (to secure the amenities) than the somewhat greater range that staff recommended in their June, 2012 report to Council.
David Vaisbord's 7-minute video clip titled Moment of Truth reveals that these recommendations—which the ruling Vision Vancouver faction on Council approved—were actually made "higher up in the administration"—a very troubling state of affairs, which has become so prevalent that lack of professional independence is a major reason that in recent years experienced planners have been quitting the City in droves.
When our delegation met with Planning Director Brent Toderian in the spring of 2007, I praised him for having stated that a rezoning of the site should involve delivery of significant public benefits to the community. But I also pointed out that opportunities for private views, which he had cited as a positive, had a downside. Towers with million-dollar views of the surrounding mountains, waterways and downtown skyline would also block Vancouver's best public views to Mount Baker and up the Fraser Valley, as well as treasured views from the Riley Park neighbourhood to Canada's first public arboretum on the slopes and crest of Queen Elizabeth Park.
Planning staff later concluded that buildings above 120 feet (ca 12 storeys) were not suitable. When policy planning finally began (nearly two years after Holborn was selected), protecting important views, retaining significant trees, respectful transitions of scale and public spaces that integrate well with the surrounding neighbourhood were among the adopted "guiding principles" that necessarily placed limits on height and density. Other limiting factors were protection of bikeway/greenways from excessive traffic, and distance from major employment and rapid transit. The CAG unanimously asked Council to limit heights to 100 feet, and were even willing to defer certain park improvements to financially enable the lower height. Green Party Councillor Adriane Carr agreed, and put forward a motion to that effect, which unfortunately was defeated.   .
At that first 2007 meeting with City staff, they assured us that they would do their utmost to convince BCH to select an experienced developer with a proven track record of working collaboratively and constructively with Vancouver communities on large projects. If they did make that request, it fell on deaf ears, because Holborn had at that time completed only one modest 4-storey building in Vancouver and a few overseas projects.
In any case, Holborn was the only player to take the bait. They bet on ultra-high density and won the RFP in early 2008. But that bad winning bet is the main reason that development has not proceeded in a timely manner, and is currently stalled with no satisfactory solution in sight.
Here is the dilemma: for the City to allow the project to proceed without the crucial amenities would be irresponsible and a slap in the face to the entire community, as would permitting greater height or density than set out in the LMPS which already stretches the guiding principles and other key considerations to (or beyond) the breaking point. And $21-24.4 million is a lot of dough for the City to come up with, considering they are making numerous service cuts and still stuck with heavy losses stemming from the Olympic Village fiasco.
Setting aside provisions in the July 2007 Memorandum of Understanding with BCH would set a terrible precedent. Vancouver made concessions, including waiving the 20% social housing agreement that would normally be required for a rezoning of this magnitude and agreeing to reinvest the DCL to provide amenities for Little Mountain instead of pooling it for citywide uses. To absorb those costs because an inexperienced developer was lured into making a fatal miscalculation would also put the City in the position of accepting further downloading of provincial responsibilities by, in effect, subsidizing construction of the social and supportive housing in addition to providing land for 14 building sites.
It would not be ethical for the Province/BCH to bail Holborn out because of the many developers that invested in the RFP, who performed due diligence and made realistic offers—a concern that Geller has raised. And if the City were to cave in and fund the amenities, they would be complicit in abetting an unethical procurement process.
Consequently, the City has put Holborn's rezoning application "on hold", and the ball is in the BCH court. Speaking of which, I suppose BCH could sue Holborn to try to force them to develop at a loss—always a bad idea—and dragging this through the courts for years would achieve little except to put a spotlight on the mess they've made. So the ball might be out of play for the foreseeable future.
This is a classic lose-lose: for the developer who is trapped in a bad deal that keeps bleeding money; for families and seniors on BCH wait lists; for former Little Mountain residents who lost their homes and their mutual-support network; for local businesses that relied on their patronage; and for the broader community that is stuck with an inadequate neighbourhood house and a huge fenced-off empty lot.
If a genuine win-win is to be found, it will be the result of Rich Coleman swallowing his pride and admitting that his government's housing strategy is a shambles, and that the only way to truly unwind this vicious spiral—largely of his own making—is for BCH to amicably part ways with Holborn by retaining or regaining ownership of the site, and to move redevelopment forward through a realistic, responsible and socially sustainable strategy; one that treats people and their neighbourhoods with respect and compassion.
David Vaisbord's powerful, revealing documentation of nearly five years of the Little Mountain saga has already helped move the tide of events in a positive direction. A feature-length documentary telling this important story through the spoken words and images of the people and the place could contribute to achieving a far happier outcome.
Ned Jacobs lives in the Riley Park neighbourhood and serves on the Riley Park/South Cambie CityPlan Committee and the Little Mountain Community Advisory Group. He is a son and student of urbanist Jane Jacobs.